Born in Sanremo in 1972, Enrico Muratore Aprosio grew up in a very beautiful marine village called Grimaldi di Ventimiglia, in Italy, located only a few hundred meters from the French border and 15 kms from the Principality of Monaco.
After completing his studies in international human rights law in France and his military service in Italy, in 1998 EMA joined the UN peacekeeping mission in Angola as Human Rights Monitor and since then, he became a human rights, humanitarian and development worker, living and travelling across the globe, especially in Africa, for the last 30 years.
He served the United Nations in various roles related to the promotion and protection of human rights, humanitarian affairs, democratic governance and inclusive societies, the protection of minorities and the elimination of gender, social, economic, and other forms of inequality and discrimination.
He also worked for international NGOs such as Oxfam in West Africa and Lawyers without Borders in Rwanda.
EMA dedicated good part of his life to pro-bono activities in the field of peace education (see Enrico Muratore : une vie à la quête de la Paix et de la Justice ), including as the founder and Secretary-General of the Association of Captain Mbaye Diagne for the Culture of Peace. Promoting the legacy of the heroic Senegalese peacekeeper who gave his life after rescuing, unarmed, over 1.000 people in Rwanda during the 1994 genocide of the Tutsis, the Association was instrumental in fostering the UN Security Council's recognition of the Captain's bravery, and the institution of the Captain Mbaye Diagne Medal for Exceptional Courage.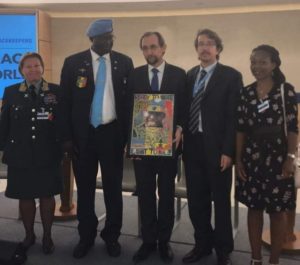 Also a radio and print press journalist and a writer, EMA has, among other, led UN humanitarian journalism projects in Angola and in Kenya, produced numerous documentary films and media campaigns, collaborating en passant with Nobel Prize laureates Dario Fo and Wangari Maathai, as well as personalities like Beppe Grillo, Boubacar Boris Diop, General Romeo Dallaire, the UN High Commissioner for Human Rights Zeid Ra'ad Al-Hussein, and others.
EMA also published numerous articles on human rights, conflict, humanitarian affairs, development and international relations on the Italian newspaper Il Fatto Quotidiano and other online media.
In 2016 EMA settled (for the second time) in Geneva. Since then, he continued his pro-bono activities for the promotion of the culture of peace, by organizing, among other, conferences at the Palais des Nations and the International Committee of the Red Cross headquarters. At the same time EMA focused his professional action on the human rights to water and sanitation, as well as on the protection of cultural rights and of the cultural heritage.
In his private life, EMA is a father of two beautiful girls, a tennis fan and a Jamaican music lover. He can occasionally be spotted walking around Geneva in the company of Stella, his Senegalese dog.
In 2020, when the Covid-19 pandemic was declared, EMA decided to use the extra-time to restart doing collages, writing stories and poems, and of course painting.